It isn't only the ghosts of Christmases past, present and future that haunt Robert Pickavance's irritable Scrooge. In Deborah McAndrew's adaptation (★★★★☆), reworked at Leeds Playhouse after last year's run at Hull Truck, he is also bothered by a band of cheeky poltergeists. With delighted giggles, they hide his slippers, shift his table and swap his nightcap for a Santa hat. In Amy Leach's vigorous production, it brings a note of humour to rub up against the Victorian penury, disturbing apparitions and grouchy misanthropy. Alongside the songs by John Biddle, given gutsy ensemble renditions, it adds variety to a show with narrative clout.
Broodingly lit by Josh Carr, the candles flickering in intensity as the unearthly smoke bellows, Hayley Grindle's set transfers the business of Scrooge and Marley to a gloomy Leeds warehouse where the labour is tough and relentless. Here, Pickavance's Scrooge morphs from a cranky taskmaster, his voice prone to shrill outbursts as his shoulders give neurotic shrugs, into a sonorous humanitarian, instantly humbled by the visions before him.
It's a rapid transformation that makes his eventual reconciliation all the more touching. That is also because McAndrew foregrounds the dilemma of the sickly Tiny Tim (a sweet and vulnerable Seb Smallwood, alternating with Lipalo Mokete), emphasising what is at stake for a poor family at the hands of an unscrupulous employer. On the wide temporary stage of the Pop-Up theatre, the production is direct and engaging, making what feels like a public avowal of the values of a civic society; one, to coin a phrase, for the many not the few.
At the end of Mark Calvert's in-the-round staging of A Christmas Carol at Northern Stage (★★☆☆☆), the audience leaps to their feet in approval. You can see why: they've been served such an exuberant feast of carols, jazzed up with bubbling Caribbean rhythms by composer and musical director Dr G Hannabiell Sanders, that sitting still seems impolite. One minute Sanders is pounding out the fidgety Latin beats, the next she is leading the company on the bass trombone. If there is a Christmas party anywhere with this much life and soul, let's hope we're all invited.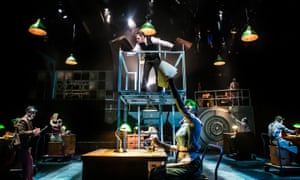 Under the movement direction of Martin Hylton, the large cast treat the Neil Bartlett adaptation as if it were a Broadway musical. The show is full-voiced and boisterous, forever erupting into festive song and dance.
And therein lies the downside of Calvert's production. For while this is a story in which everyone bar Scrooge knows how to enjoy themselves, Dickens didn't write a novel about a feelgood party occasionally interrupted by a morose old man. Nick Figgis plays Scrooge as a credibly grumpy boss rather than a misanthropic caricature – an interesting decision, but too subtle to compete with the razzmatazz about him. It's not his fault the pathos, the politics and the change of heart are swept away by the showbiz fun and games.
Staged on Rhys Jarman's fluid early-20th-century set, which switches from industrious office to derelict factory, the production favours theatrical dynamism over focus on the plot. It is big and flamboyant, where the story calls for sensitivity and restraint. On the large open stage, you get little sense of poverty and cramped living; little feel for the impact of Scrooge's meanness and therefore little understanding of the radical release when his attitude changes. It is full of hearty commitment but misses the point.
• At Leeds Playhouse until 19 January and at Northern Stage, Newcastle, until 5 January.