Spoiler alert: this blog is published after Sharp Objects airs on HBO in the US and Sky Atlantic and Now TV in the UK on Sunday night/Monday morning. Do not read unless you have watched episode eight.
'Don't tell Mama'
For the final 15 minutes or so of Sharp Objects, which has been as deeply satisfying as it has been joyfully over the top, I thought it might be throwing it all away on a saccharine ending that served up redemption when we hadn't asked for it. Of course not. The bleached-out, too-bright, happy-ending part soon gave way to its natural state of feel-bad drama – and the twist at end served up the rotten ending we deserved.
I laughed when the big reveal finally happened, not so much at the fact that Amma was decorating her dolls' house with children's teeth, but at how fantastically gothic and gruesome it all turned out to be. It was a little rushed, perhaps, but poor old Mae, befriending one of Adora's girls; the "Call Mom" written on her hand may have sealed her fate. When Adora said Camille was the daughter who was most like her, perhaps she wasn't quite seeing the wood for the trees. Mind you, I couldn't see it either, which made the whole thing very pleasurable indeed.
"It's kind of funny how many stories they have about princesses needing to be rescued from witches," Amma said, dressed as Persephone, knowing that it was she who had been doling out the punishments to those who got too close to her mother. That Adora took the rap for her daughter, if that was the case, was a final twisted act of love, although there was plenty of that on offer here.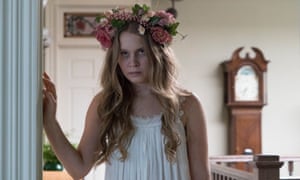 I know some critics have found Sharp Objects uneven, but its blend of horror, melodrama and a sprinkle of camp worked a treat for me – and it was lifted by some truly fantastic performances. Amy Adams and Patricia Clarkson simply looking at each other over the dinner table, until one of them turned away – it was always going to be Camille – said more than any dialogue could.
Similarly, for all the murder-mystery elements, it doesn't get much more creepy than Camille finally giving into what Adora wanted. Adams even looked like a little girl in those bedroom scenes, tucked up in her nightgown, as vulnerable as she could be. Although Camille was sacrificing herself to save her sister, there was an underlying sense that she and Adora were letting the inevitable happen, that resistance had exhausted them both. Adora's infantilisation of her daughters, the "good girls" and the coddling and the "you girls better be in bed" had always seemed menacing, but this claustrophobic crescendo was almost unbearable; the tension was masterly. "This will be good for both of us, don't you think?" purred Adora, spooning her "medicine" into her adult daughter's mouth.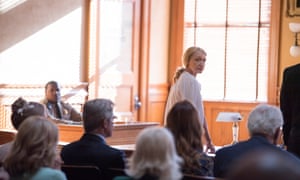 That blue-bottle cocktail of antifreeze, rat poison and prescription medicines was one thing to which Camille hadn't built up a tolerance, although it was Curry who came to save the day, rather than Richard. (The series has displayed a pleasingly dark sense of humour; I particularly enjoyed Richard's emotional apology in hospital, followed by Amma's response: "What a dick.") I enjoyed the confidence in letting the question about who knew what linger in the sticky Missouri air, rather than wrapping it all up neatly: surely Chief Vickery had an idea, and Jackie – and that's to say nothing of Alan's complicity. Was he protecting his wife, or daughter, or trying to save both of them? Still, it's all over now. There's one thing left for Camille to do now. She's going to have to rewrite that article.
Who's the killer?
Who, having not read the novel, saw it coming that the woman in white was the younger Crellin? For those in the comments who have read the book, I see now what you meant about the trail of breadcrumbs that had been laid throughout the series. It makes me want to go back to the beginning and watch it again, perhaps with the calming aid of a nice Amaretto sour.
Notes and observations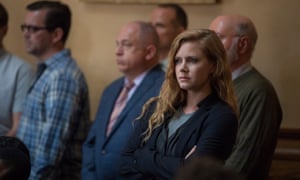 Alan was back on the Perry Como, with It's Impossible drowning out the double-poisoning; Sam Cooke's A Change Is Gonna Come hinted at a twist during Curry's dinner party; and, naturally, the series played out to Led Zeppelin's In the Evening.
Did Camille fake feeling unwell to deflect Adora's attentions from Amma, or did she drink the milk (I love that it was milk) knowing it was poisoned, with the same intention?
How did Amma find the strength to pull the teeth? Or was the implication that Adora had been helping her with that, too?
The sound editing throughout this episode was fantastic, from the unreal tinge to the voices at the dinner at the beginning to the menacing bubble of the boiling pan.
How many Adora costumes might we see for Halloween this year?
The story about her childhood at least gave Adora a motive for her actions. It was strange to leave Sharp Objects thinking Camille was the lucky one.
Surely there won't be a second season (although I thought that about Big Little Lies), but I would love to see Adora in an Orange Is the New Black crossover. She would have to ditch the perfect manicure, though.
Thank you all for your comments, particularly for the restraint of those who knew what was coming. It has been a hell of a ride through Wind Gap.