Taking in the night, Dr Dorn (Jon Tenney) looks at poor lovesick Masha (Elisabeth Moss), pauses, then sagely sighs: "The spells cast by this lake." This new version of Anton Chekhov's The Seagull, as adapted by Stephen Karam, seems populated by characters who know they are in a Chekhov play. I don't mean that there are any arch, meta-textual tricks, more that the comedy inherent in the play is amplified, the "woe-is-me" mopery is kept to a minimum, and the woodland grounds and its samovar-laden patios are gorgeous.
While this is not director Michael Mayer's first film, he is far better known for his work on Broadway and in the West End (he won a Tony award in 2007 for Spring Awakening). Despite his background and The Seagull's old war horse status on the boards, Mayer takes pains to ensure everything is as cinematic as possible. At first one might fear he has overcorrected, but after a prologue (the beginning of Act IV appears first before we flip back to page one) the rhythm settles in. The editing is brisk, the camera placement is creative (especially during a conversation on a rowboat) and each actor gets their closeup.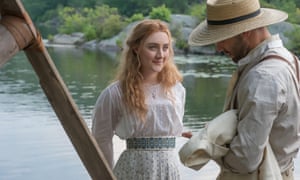 Luckily, every performer is either good or great. It will surprise few that Annette Bening is outstanding as Irina, the vain actor fussing about as the centre of attention. Is Irina really devoid of self-awareness, or is she putting on an act even for herself? It's hard to tell. What is clear is her cruelty to her sensitive son Konstantin (Billy Howle), who yearns to be a bold new artist but lacks the spark. Howle has the tough task of being a likable wuss, and gets the job done.
The romantic entanglements in The Seagull are less a love triangle than a many-sided polygon, but what matters is that everyone is varying degrees of miserable. Brian Dennehy's Sorin (Irina's brother) could, under other circumstances, be an unattached bon vivant, but with his failing health and his feeding on everyone else's malaise, he's got the blues, too. Corey Stoll is lively as Boris, the successful writer on Irina's arm whose attentions turn to Nina (Saoirse Ronan), a country girl thinking of becoming an actor who is, at the start of the film, dating Konstantin. The outdoor light loves her hair and blue eyes, and every smile she gives is luminous.
Masha (Moss) stomps into each scene like an ur-Russian goth chick, and is absolutely hilarious, except for the few moments she's breaking your heart. She is the daughter of the caretakers and desperately in love with Konstantin, who barely even knows she exists. "Go away!" he barks from behind a door when she musters the courage to speak to him. In turn, she hurls "Go away!" at Mikhail the schoolteacher, who is in love with her. Michael Zegen, Glenn Fleshler and Mare Winningham round out the cast, and everyone is terrific. There's also a nice cameo from the proverbial Chekhovian gun.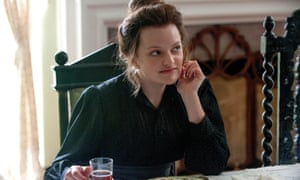 In truth, some audience members may want to blow their brains out after 30 minutes of all this sniping and scurrying about. However, Mayer's energetic shooting style and the sharp performances provide enough kick to keep this out of the period-picture doldrums. There is no agreed-upon great cinematic adaptation of a Chekhov play. Louis Malle's Vanya on 42nd Street might come closest, but it's essentially a staged reading. Woody Allen has cribbed concepts many times, but always reinterpreted. Mayer's The Seagull is not a masterpiece, but it is impressive, and for those who agree that it is important to check back in with the classics, the whole company deserves its huzzahs.