For the Venice film festival, at least, 75 is the prime of life. As the curtain prepares to rise on a landmark edition, it finds itself in robust health, with a lineup packed with major stars, key directors and films that look certain to dominate the awards season.
Described by artistic director Alberto Barbera as a "once in a decade lineup" (a description not disputed by critics), the programme includes premieres of films by Mike Leigh, Paul Greengrass, the Coen brothers, Luca Guadagnino – and Orson Welles. And just one woman: Australian director Jennifer Kent.
This year, the coveted opening-night spot – held in previous years by Oscar winners Gravity, Birdman and La La Land – is for the Neil Armstrong biopic First Man, which reunites La La Land's director, Damien Chazelle, and star Ryan Gosling. It promises tense, kinetic space scenes, and affecting moments with Armstrong's wife, played by The Crown's Claire Foy, whose performance is generating awards buzz.

Alfonso Cuarón, whose last film was Gravity, returns with Roma, a tribute to the 1970s Mexico of his childhood. It is his first film non-English-language film since 2001's Y Tu Mamá También, and is said to be as intimate and visually astonishing as Gravity.
Its inclusion in the festival is thanks partly to a dispute between its distributor, Netflix, and Cannes festival director Thierry Frémaux, who decreed that films produced by the streaming service would not be eligible for awards. Netflix promptly withdrew its titles from consideration by Cannes.
Several of the highest-profile titles screening at Venice are profiting from this spat, including The Other Side of the Wind, a drama shot by Orson Welles in the 1970s and recently completed by Frank Marshall.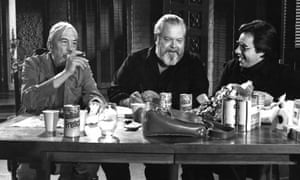 Meanwhile, other Cannes regulars have jumped ship for the Italian alternative. Jacques Audiard's quirky western The Sisters Brothers, starring Joaquin Phoenix and Jake Gyllenhaal, had been much-fancied to show up on the Croisette last May. Audiard's previous film, Dheepan, took top honours at the festival in 2015, following warm receptions there for his Rust and Bone (2012) and A Prophet (2009). But The Sisters Brothers will now be seen first in Venice.
The Juliette Binoche vehicle Non-Fiction, by French director Olivier Assayas (whose previous two titles – Personal Shopper and Clouds of Sils Maria were at Cannes), will also debut at Venice. A similar pattern emerges with movies by the Mexican auteur Carlos Reygadas and Greek director Yorgos Lanthimos, the latter much-celebrated for The Lobster and Alps. Venice has bagged the first screening of The Favourite, Lanthimos's rambunctious take on the court of Queen Anne, starring Olivia Colman, Emma Stone and Rachel Weisz.
British directors also have a strong showing on Venice's Lido. Leigh, who won the Golden Lion for Vera Drake in 2004, returns with Peterloo, an epic telling of the 1819 massacre in Manchester. Maxine Peake and Rory Kinnear lead an ensemble cast in a film some have dubbed a call to arms for contemporary workers' rights and voter representation.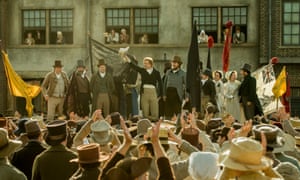 Greengrass's 22 July also tackles a real-life mass killing: Anders Behring Breivik's murder of 77 people, including scores of children at a summer camp, in Norway in 2011. Another Netflix title, it is said to tell the story from a survivor's point of view.
Meanwhile, rival streaming site Amazon is behind The Ballad of Buster Scruggs, an anthology western by the Coen brothers that was conceived as a TV series and converted into a full-length film.
Fresh from the success of Call Me By Your Name, Guadagnino returns to his homeland to premiere Suspiria, a remake of the Dario Argento horror, starring Tilda Swinton and Dakota Johnson. Further Hollywood glamour comes courtesy of Lady Gaga and Bradley Cooper, the stars of the fourth remake of A Star Is Born. The film premieres out of competition in Venice and marks Cooper's directorial debut.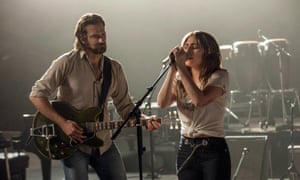 Excitement over such a strong programme has been tempered by scepticism about whether Barbera has done enough to showcase the work of female film-makers. Around 45% of the festival's cinema programmers are female. However, only one of the 21 films in competition is directed by a woman: The Nightingale, by the Australian director Jennifer Kent, whose horror The Babadook was a critical hit four years ago.
Barbera said: "Putting another film in the main competition just because it's made by a woman would be really offensive for the director … I would prefer to change my job if I would be forced to select a film only because it's made by a woman and not on the basis of the quality of the film."
Change must come earlier in the film-making process, he added. "It's not up to us to change the situation."
The ratio at Cannes this year was slightly higher, with three of the 17 competition spots afforded to female directors. Meanwhile, the Toronto film festival, which overlaps with Venice, includes new films from the likes of Claire Denis, Nicole Holofcener, Elizabeth Chomko, Patricia Rozema, Nadine Labaki and Mia Hansen-Løve.
It will also have premieres of films by Steve McQueen, whose heist revenge drama Widows is his first film since 2013's 12 Years a Slave, and by fellow best picture Oscar winner Barry Jenkins. Jenkins, whose drama Moonlight pipped La La Land to the top gong in 2017, returns with the James Baldwin adaptation If Beale Street Could Talk.
The festival yet to reveal its lineup is Telluride, a small-scale Oscar bellwether over the Labor Day weekend in the US that usually includes choice cuts from Venice and Toronto, as well as a few exclusives.
The 75th Venice film festival runs from 29 August to 8 September.