The National Museum of Brazil didn't just capture the country's history. The building was part of it. When King João VI fled to South America after Napoleon's invasion of Portugal, he turned Rio de Janeiro into the seat of power for the government of Portugal, Brazil and the Algarve.
The official residence was Saint Christopher's Palace – and that building later became the National Museum. But now, instead of celebrating the 200th birthday of this magnificent institution, Brazil is in tears because it has burned down. If this historic landmark symbolised the beginning of the nation, the fire symbolises a country where a lack of culture and education is the greatest problem.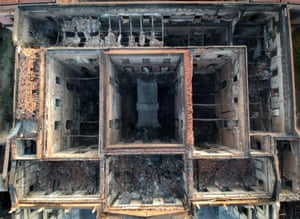 Brazilians travel around the world in their millions, visiting fantastic museums like the Tate in London, the Metropolitan in New York, and the Louvre in Paris, which had more than 8 million visitors last year. Yet it is not overstating things to say that Rio – with its panoramic views of mountains, forests and the sea – is the most beautiful city in the world.
So why did the National Museum – the most fantastic museum in South America with its 2m artefacts, its Egyptian collection and the most ancient fossils in Brazilian history – receive only 154,000 visitors a year?
We blame the government for neglecting our history. But we, the Brazilian people, neglect it too. Brazil is a fantastic country, a beautiful country, but it is blighted by the lack of education. Poor people in Brazil do not go to school, let alone to museums. Rich people go to museums – but in London, New York or Paris, not in Rio or São Paulo.
Ipiranga Museum in São Paulo, built where Brazilian independence was decreed in 1822, has been closed for five years. Now that the National Museum has died in flames, we wonder what can happen with Ipiranga. We wonder what can happen with our souls.
https://www.theguardian.com/culture/2018/sep/04/paulo-coelho-rio-brazil-national-museum-fire-neglected-history