Andrew Miller has some nerve. Nerve in the sense of both courage and cheek, for daring to write historical fiction that refuses to have anything to do with the stylistic experiments of the last hundred years, nor (à la Hilary Mantel) with the pursuit of deep psychological insights and cross-century parallels. Like several of his previous books – including his multi-awardwinning first novel Ingenious Pain (1997) and the Costa prize-winning Pure (2011) – Now We Shall Be Entirely Free is set in the early Romantic period, and like those precursors it plays no formal tricks and has no obvious ludic or cultural self-consciousness. The resemblances it bears to other novels – in particular Robert Louis Stevenson's Kidnapped and The Master of Ballantrae – feel more like shadows falling across the text than knowing references. It is a four-square adventure story, with an intrepid male hero, a supporting cast of women who are either meekly servile or scrabbling rather prettily at the bars of convention, landscapes that are rugged but essentially benevolent, and a villain who – although allowed some reason for being so – is a real bastard.
Miller sets himself a difficulty similar to others he has created for himself in the past. Just as the hero of his first novel is mostly incapable of feeling pain, and the heroine of 2015's The Crossing is inscrutable in the aftermath of tragedy, so his current protagonist, John Lacroix, is closed off from those around him. In other words, the new novel again combines a forward-diving narrative with the description of a state of bafflement. Miller's principal means of operation and his principal character pull in different directions.
The story begins in 1809, when Lacroix returns home to Somerset after eight months fighting with the British army in Spain. Exhausted and hurt, he is nursed back to something like his former self by his trusty housekeeper, Nell, but remains "absent" in mind. Clearly something bad has happened. Exactly what, and how bad, we are left to imagine, while a fellow officer arrives to remind him that he is still a soldier and should report for duty when recovered. Lacroix makes plans to bolt to the islands of Scotland, where we suppose he will find a salve for his torment, or simply somewhere to hide.
Because of the events in Spain, the British high command commissions a soldierly thug called Calley to set off for England and put paid to Lacroix – and so begins a story of flight and pursuit. The journey north gives Miller a chance to add some authenticating historical detail, most of which he does well, in a dry but observant style. We hear about Calley's brutally formative experience as a child; we see the spoiling effects of industrialisation on the countryside he passes through; and we gather some evidence of the main religious and political movements of the time.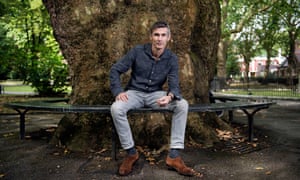 Although Lacroix keeps mum while travelling, we have seen enough of his mind by this stage to know that he feels himself to be "at the edge of something" (breakdown, paranoia, confession), and understand that the appeal of a remote island has something to do with finding a physical place that matches his interior mood. When he eventually arrives, he is not as alone as he imagined he would be. Already ensconced on the island is a small family of idealists, living their utopian dream in much the same way that Coleridge and others planned to do on the banks of the Susquehanna River.
As Calley closes in, we are reminded again of both the strengths of Miller's procedures, and their limitations. The pacing of his story is excellent; his style is crisp; his apprehension of pain is arresting; and his ability to show people trembling at the edge of un-reason is compelling. "Even the most sensible people have an edge of lunacy to them," he writes at one point, "like fat on a cutlet." But as the story reaches its climax, the tension between action and withholding becomes increasingly problematic. It's not just that Lacroix is reticent, and that so much action happens off stage or invisibly. It's also that when Lacroix does finally confess the full story of what happened in Spain, he reveals a paralysis in himself that we are never entirely convinced has been cured. Is this plausible psychology? Possibly. Does it show a conflict in Miller himself, between his appetite for writing a historical yarn and something quieter, more subtle and more inward? This seems just as likely.
• Andrew Motion's latest book is Essex Clay (Faber). Now We Shall Be Entirely Free is published by Sceptre. To order a copy for £16.14 (RRP £18.99) go to guardianbookshop.com or call 0330 333 6846. Free UK p&p over £10, online orders only. Phone orders min p&p of £1.99.
https://www.theguardian.com/books/2018/aug/31/now-we-shall-be-entirely-free-andrew-miller-review