My second novel, Feast Days, is narrated by a young American woman whose husband is relocated from New York to São Paulo. "We were Americans abroad," she says. The novel of Americans far from home has a long history, and is perhaps distinct from its cousin, the novel of Britons overseas. Both get into a fair bit of bother away from native soil, but Americans tend to be viewed as the more innocent – citizens of a country that was once a colony, and which even now can't quite see itself as an empire. This division is best embodied in the jaded Fowler and bright-eyed Pyle of Graham Greene's The Quiet American. That book's lesson is clear: you can be innocent and still cause a lot of trouble.
Innocence, in the classic novel of Americans abroad, tends to take the form of a lot of drinking and a lot of watching Spaniards being gored in the ring by bulls. But you don't need me to tell you to read The Sun Also Rises. The same goes for The Sheltering Sky, The Names, Leaving the Atocha Station, A Sport and a Pastime and Tropic of Cancer.
And there are others, a long list of books written by American white men about American white men doing American white man things in foreign countries. Many of them are great. But in the 21st century, the subject takes in so many other voices, other stories: the experiences of American women; the experiences of Americans born elsewhere, returning to the country of their parents and grandparents or travelling as Americans for the first time; the experiences of LGBT Americans navigating new and uncertain terrain.
These are 10 of my favourite books that both handle and complicate a venerable theme.
1. Questions of Travel by Elizabeth Bishop
Bishop's finest volume of poetry, which she wrote while she was living in Brazil after winning the Pulitzer prize for her previous collection, gives a portrait of a singular American abroad. There was never a writer better equipped to treat the expatriate experience with the richness, irony, self-deprecation, and dry wit it deserves. "Oh, tourist, / is this how the country is going to answer you / and your immodest demands for a different world?"
2. Running by Cara Hoffman
Young, ragged expats hustling and sweating it out in the Athens of the 1980s, a busted love triangle, run-down hotels far from the Acropolis, the romance and terror of living hand-to-mouth a long way from home. The writing is impressionistic and soulful, the characters scarred and affecting.
3. Democracy by Joan Didion
The US was already a full-fledged empire by the time Didion published her fourth novel, and already committing the errors of empire with the invasion of Vietnam and its interference in Central America. In a way, Didion updates and reframes Graham Greene's The Quiet American, interrogating the unintended consequences of her country's attempts to flex its muscles in far-flung places that its leaders understand, at best, incompletely.

4. The Reluctant Fundamentalist by Mohsin Hamid
In this reimagining of Albert Camus's The Fall, Hamid depicts a pas-de-deux over the course of an evening in Lahore. The narrator, a Pakistani man who spent a formative period in New York working in finance in the years before 9/11, addresses his interlocutor, an unidentified American man who may be an intelligence officer, but who never gets a word in edgewise, so to speak. As sharp and clean as the blade of a knife, this is a story, like Didion's, about the uncertain empire the US has built, and about the pain and disruption this uncertainty inflicts upon individual lives.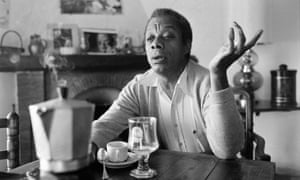 5. Giovanni's Room by James Baldwin
The definitive postwar American expat novel. Baldwin's lush, melancholy story of lust in France still feels new and daring, long after many of the taboos it broke fell by the wayside. Baldwin showed moral courage in telling the story of a young American, engaged to be married, falling for the mercurial, eponymous Italian of the title. But the novel also conjures the rain-slicked cobblestones of a Paris street after a long night of drinking as well as anything in Hemingway's A Moveable Feast.

6. Asymmetry by Lisa Halliday
In the second half of the diptych that comprises Halliday's inventive, riveting novel, Amar, an Iraqi American, finds himself trapped in the dull, absurd nightmare of immigration control at Heathrow airport. Though he holds a blue American passport, the place of birth it lists marks him as undeserving of smooth passage. Halliday's novel is a daring piece of 21st-century storytelling about a 21st-century American.

7. What Belongs to You by Garth Greenwell
This stylish, dark novel follows a young American who flees his family in the heartland to teach in Sofia, Bulgaria, where he falls in love with a damaged and dangerous man. The prose is mesmerising. Greenwell gives one of the preeminent novelistic performances of recent years, one that precisely captures the particular loneliness and longing of the expatriate, and the way that one's experience of an entire country can be concentrated in a few people, or even just one.

8. The Return by Hisham Matar
Matar's book traces his return to Libya after Gaddafi's fall – in search, among other things, of the truth about his father, a political dissident imprisoned and presumably killed under the dictator's rule. US-born Matar creates a portrait of a country in transition, free of one cruel man and now facing myriad, unpredictable dangers, prodded by the western nations that belatedly attempted to come to its rescue, tugged at by returning expatriates and foreign interests, already cracking from internal conflict. Normally books about current events are written by journalists or politicians, but this is a masterpiece written by an artist, combining elements of reportage, memoir and history. It's vivid, granular, complicated, and devastating.
9. Mating by Norman Rush
I love his second novel, Mortals, even more, but this was the book that first gave the world the full long draught of Rush's sui generis literary voice. He once admitted that, by writing his nameless female narrator, an American anthropologist at loose ends in 1980s Botswana, he wanted to create "the most fully realised female character in the English language". What a ridiculous and unforgivable thing to say, a kind of uber-mansplaining – or it would have been unforgivable if Mating weren't also one of the most indelible literary events of the past 50 years.

10. Look by Solmaz Sharif
One can't, in 2018, think about Americans abroad and not come around to war. Sharif's collection of poems is a marvel of linguistic invention and reconfiguration, and every page sparks with intelligence. Sharif used the US Department of Defence's Dictionary of Military and Associated Terms as source material, and she depicts the restless and heartbroken mind of a foreign-born American roving across the world as the US has made it, across lands of unexploded ordnance and families torn apart, into the bedrooms of lovers at a time when even making love can't be detached from politics, and through newly ungoverned spaces where innocents live and work and seek, in the face of it all, to keep going.