It's not hard to understand the enduring appeal of gangsters in fiction. From the romantic notion of the outlaw antihero to the caricature of the psychotic mob boss, they have been portrayed in many different lights; but the unifying theme is that they live by a set of rules alien to the law-abiding public, and that makes them fascinating. We want to know what makes them tick, to understand their world and to see it in all its bloody reality. It's the essence of what makes a good thriller: showing us a violent existence from the safety of an armchair.
I never set out to write about gangsters. My first novel, The Dark Inside, was based on the Texarkana Moonlight Murders, a 1946 serial-killing case. The sequel, Black Night Falling, saw my protagonist, Charlie Yates, drawn back to Arkansas, to the town of Hot Springs – a real-life mob town in the 1940s where illegal gambling and prostitution flourished. That's when serendipity came into play: in researching the book, I discovered that Benjamin "Bugsy" Siegel was at that time a regular visitor to Hot Springs. Having one of history's most famous gangsters in such proximity to my story was too good a chance to pass up, and in my new novel, Cold Desert Sky, Siegel takes centre stage.
Set in Los Angeles and Las Vegas during the construction of Siegel's Flamingo Hotel, it sees Charlie investigating the disappearance of two Hollywood starlets while trying to dodge Bugsy. His only care is staying alive long enough to find the missing girls, but LA is Siegel's town …
Here's my pick of the gangster books I've read over the years:
1. The Godfather by Mario Puzo
An obvious choice, perhaps, but a reflection of how seminal it is to the genre. Francis Ford Coppola's film adaptation is regarded as one of the greatest of all time, but the book is a classic in its own right. It introduced terms like Cosa Nostra and omertà to a mass audience and defined the public perception of mobsters for decades to come.

2. Wiseguy by Nicholas Pileggi
Adapted by Martin Scorsese as the film Goodfellas, Pileggi's account of the life of mobster Henry Hill was the starting point for the modern-day depiction of the gangster. The book set the template for all that followed – from Casino and Donnie Brasco right through to The Sopranos.

3. American Tabloid by James Ellroy
Ellroy dedicates his masterpiece to "bad men, and the price they paid to secretly define their time". Covering the period from JFK's election to his assassination, Ellroy takes us into the world of thugs, fixers and killers on the fringes of power. It still amazes me that in 600 pages, the closest thing to a hero is a hitman who by his own reckoning has killed more than 500 people. It was accused of glorifying criminals, but I prefer Ellroy's own explanation: this is a story of three men crushed by the weight of their own evil.

4. The Power of the Dog by Don Winslow
Winslow's novel chronicles the first 30 years of the US's "war on drugs". Epic in every sense, the book lays bare the violence, futility and hypocrisy of the policy, and is made all the more striking by its grounding in true events. But this is much more than a fictional exposé of recent history; as in The Godfather, it's the personal relationships that drive the narrative as the friendship between DEA agent Art Keller and narco kingpin Miguel Angel Barrera disintegrates into a blood feud.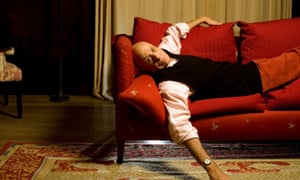 5. LA Confidential by James Ellroy
For my money, Ellroy's five-book run from The Big Nowhere to The Cold Six Thousand is as strong as any crime author has put together. LA Confidential focuses on the LA mob scene after Siegel, but takes in LAPD corruption, institutional racism, high-class prostitution and more. Sprawling and complex, yet exquisitely plotted, it's the pathos Ellroy imbues in his tough guys that sets this apart. That and the fact that it features the villainous Dudley Smith at his absolute zenith.

6. Muscle for the Wing by Daniel Woodrell
Woodrell's later works such as Winter's Bone are more famous but I love this fast and violent novel about a gang of ex-cons muscling in on a town run by the southern mob. Woodrell has never wasted a word, and this is no different: the local crime boss, for instance, "measured five foot seven standing on your neck". You would struggle to find any heroes to root for here, but Woodrell doesn't care about that. Pacy, hard-boiled thrillers aren't hard to find, but ones that are written with this precision, this memorable a voice, are a rare thing.
7. The Neon Rain by James Lee Burke
Burke's first novel in the Robicheaux series sees him running up against New Orleans crime boss "Didi Gee" Giacano. Omnipotent and universally feared at the outset, by the end Didi Gee's got a litany of problems: the law is closing in, the cartels are moving on his turf and his health is failing. A corpulent, complacent kingpin, his story arc comes to symbolise the decline of the mafia's underworld stranglehold in the face of newcomers with new rules.

8. Live By Night by Dennis Lehane
This is the other side of the coin: Lehane's sweeping novel charts the rise of Joe Coughlin from the streets of Boston to Florida mob boss. Lehane's fearlessness as a writer is in evidence here once again – not just in the change in period and setting from his earlier works, but in the ambition of the novel's scope. By turns a gritty mobster epic, a coming-of-age story and a cautionary tale about the price of success, at its heart this is a story of love and loss – and one that seems constructed to deliver an inevitably happy ending only to sidestep it, twice, in a manner probably only Lehane could pull off.

9. The Rules of Wolfe by James Carlos Blake
Blake's tale of Texan gun runners starts with one of the most breathless action sequences I've read – an arms deal at sea goes bad, resulting in a showdown with cartel killers in a pitch-black coastal lagoon. The climax sees a wounded man begging for a bullet before the crabs can eat him alive. Blake doesn't deal in sentiment. The writing is taut and spare throughout, the tension never lets up, and this is as dark as noir gets. But there's a literary quality to it that elevates this above the norm, and the later stages evoke Cormac McCarthy's works set in the same border badlands.

10. After Hours by Edwin Torres
Torres's work opens up the rarely featured world of Puerto Rican gangs in Spanish Harlem. It is the second book in the series, and this time Carlito Brigante is older and wiser and looking for a way out of the life – and anyone familiar with the genre knows that never goes well. The book hums with authenticity, and Brigante is a standout character: a killer and a survivor, but smart and thoughtful with it.