BORDERS GO INTO ADMINISTRATION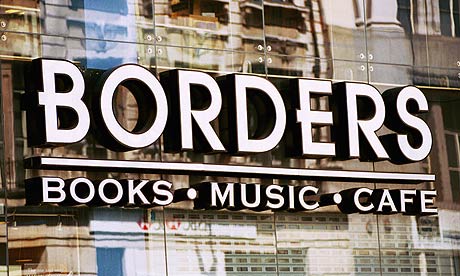 I heard this last night on the radio when I went food shopping.   
Quote
UK bookshop chain Borders goes into administration
The firm, which has 45 stores employing 1,150 people across the UK, has come under severe pressure from internet competition during the past year
The UK bookshop chain Borders was placed in administration today, raising doubts over 1,150 jobs.
The firm, which has 45 branded Borders and Books Etc stores across the UK, has come under severe pressure from internet competition during the past year.
Administrators MCR said the business continued to trade while a buyer is sought for all or some of the company's stores.
Borders's future has been uncertain for several days since it emerged that a deal to sell some stores to WH Smith had probably collapsed. On Tuesday it suspended orders on its website.
Since July Borders has been owned by Valco Capital Partners, part of Hilco, which specialises in distressed retailers. On Monday a court in Manchester granted Valco's request to start the process of naming BDO as administrators.
Borders's accounts show the company made a loss of £13.6m in 2008, up from £10.3m in 2007. Its auditor, Ernst & Young, raised doubts about its ability to continue as a going concern.
Borders has struggled with "severe" cash flow pressure this year as sales falls accelerated, administrators said.
Stock levels were also hit as several of the company's suppliers stopped or reduced its credit limits, while a number of credit insurers have also reduced their cover for the firm.
Joint administrator Phil Duffy said: "All stores currently remain open for business as normal whilst the administrators undertake a review of the company's affairs and seek a purchaser for all or some of the company's stores in which there has already been interest.
"All outstanding employee wages have been paid up to date and ongoing wages for retained staff will continue to be paid as an expense of the administration."
He added that booksellers in general had been hit in the current weakened retail market, with competition on major releases from supermarkets and the internet.
Borders first opened in the UK in 1997 and was originally owned by the US book giant of the same name.
But the UK and Ireland arm was sold to buyout group Risk Capital Partners – headed by Channel 4 chairman Luke Johnson – in 2007.
Management, led by chief executive Philip Downer and finance director Mark Little, then bought the group back with financing from Valco Capital earlier this year.
Quote
article source
MCR opens book on Borders administration
Rachael Singh, Accountancy Age, 27 Nov 2009
Book retailer enters administration weeks before Christmas but administrators hope to sell it as a going concern
MCR has been appointed administrators to High Street book chain Border after BDO backed out of the work because of conflicts of interest.
Philip Duffy, Geoff Bouchier and David Whitehouse of MCR are appointed joint administrators of the company, which has 45 branded shops including Books Etc.
Borders recently suffered "severe cash flow pressure" and several of its suppliers stopped or reduced credit limits.
The book retailer also had problems with credit insurers as many reduced cover over the last year.
The company received a blow earlier this week as BDO Stoy Hayward refused to carry out the administration as the retailer were about to request the appointment in court.
In a statement BDO said it had discovered conflicts of interest when " identifying the risks involved in taking on any client appointment," the Daily Telegraph reported.
Borders were bought by its management earlier this year. It was backed by Valco Capital Partners, the private equity arm of restructuring specialists Hilco.
It is believed the book seller, which has approximately 1,150 employees, suffered increasing competition from the internet and supermarkets.
The administrators are working with management in an attempt to sell the company as a going concern.
Duffy said: "All stores currently remain open for business as normal whilst the administrators undertake a review of the company's affairs and seek a purchaser for all or some of the company's stores in which there has already been interest."
He added: "All outstanding employee wages have been paid up to date and ongoing wages for retained staff will continue to be paid as an expense of the administration."
"The appointment of MCR as administrators to the business is indicative of the weakening position of book retailers in the current market with competition on bestsellers from supermarkets and the growing strength of the digital and on-line markets in this sector," he continued.
Earlier this week the Publishers Association, the publishing industry's trade body, was unable to find a way for publishers to continue trading with the chain the Daily Telegraph reported
Further reading:
If I had a Borders in my local town then I would be in it every day.  Unfortunately the nearest one is over 50 miles away but when I am in Glasgow, I go there and I buy books. I love the Starbucks there, I love to sit there surrounded by books while I drink my coffee and decide what I'm going to buy.   This btw is the only Starbucks I use too.  I just don't get up to Glasgow very often at the moment.
The Glasgow Borders is the busiest Borders in the world:
and it is always full of people!  I really hope they find a way to keep it open and running as a bookshop.  That would be one less reason for me to go to Glasgow if it closed.  They do sell other things like magazines and CDs and DVDs but they have 5 floors of books!!! If I had the money I would buy it!  Maybe the cartoon has a point though…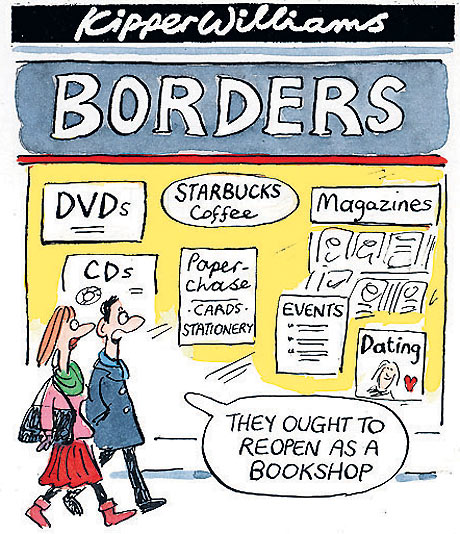 Cartoon from The Guardian 25 Nov 2009
When they announced the internet dating site, I had a good old laugh at that.  It smacked of desperation not ingenious marketing, and I did wonder then if there was trouble afoot.  I don't mind the magazines and the stationery supplies, after all magazines are just a different form of reading material and well you need something to wrap up your book present in don't you.  CDs and DVDs I never buy in Borders so for that's a whole floor you could use for something else right there.  My other issue with my "local" is that the childrens books are on the top floor.  If you're shopping with children who wants to drag them up several flights of stair, escalators or wait an interminably long time for the slow as death lift to arrive?  Not me.  Get rid of the CDs/DVDs, move the childrens books to the basement where the CDs/DVDs used to be, and try incorporating some kind of childrens story time on the weekends.
I know it's difficult to compete with an international giant like Amazon but Borders UK might have had more luck if they hadn't been ditched by the parent company and left to fend for themselves!
But perhaps people are just not buying books anymore?  There does certainly seem to be a decline in reading and with it literacy skills and maybe even intelligence?  How much do you truly learn by pressing a few buttons on a game console or getting to another level of X or Y game?  How much imagination does it take when it's all nicely laid out on the screen in front of you?  Instant gratification is the name of the game here (no pun intended) Books do not provide that, you have to use your imagination, you have to read, you have to think for yourself.  The closest thing to instant gratification a book can provide is with audiobooks.  There you don't even have to read the book yourself, you get to listen to someone else read it, but at least it's still a book!  You can listen to audiobooks when you commute or at other times when you don't need your ears and use that time to "read" all the books you don't otherwise have time to read, and get yourself more educated, and even thinner, in the process.  (See post about Stephen Fry walking to audiobooks and losing 5 stone!)
But of course that raises another point doesn't it.  The time it takes to read a book.  Yes like I said no instant gratification here mate.  Reading is "work" (compared to staring at a TV screen or watching a movie) but if you find the right kind of book for you, one that captures your imagination, one that you just can not put down because it is so gripping, then you will find that you will fly through it in no time at all.  The more you read the better reader you will become.  You may not become a speed reader (who would want to?) but you will get faster, you will understand more, and reading will become a necessary part of your daily life.
Get reading, join a book group – ours is very good btw – encourage your children to read and think twice before buying them "instant gratification" toys.  Save our bookshops because what's going to be next to go, our libraries?  Will publishers stop publishing or stop paying authors?  Will authors be forced to find alternative employment?
But then if a charity bookshop selling cheap secondhand books can't stay open…
Quote
Ayr charity shop closes
Sep 25 2009 by Edwin Lawrence
FIFTY volunteers have been discarded with the shock closure of a charity book store in Ayr.
"It was business as usual one day," said a helper at the Newmarket Street shop.
"But at a meeting that night we were all told the shop was to close, with immediate effect.
"We couldn't believe what we were hearing, as we are all very committed to the charity."
Around half the volunteers managed to attend the hastily arranged meeting on Thursday last week.
Charity boss Magnus MacFarlane-Barrow personally made the shock closure news.
He and brother Fergus founded Scottish International Relief in 1992 during the Bosnian conflict.
Then in 2002, during a SIR famine relief project in Malawi, Magnus was spurred to launch Mary's Meals.
"It's a wonderful charity," said axed Ayr shop volunteer Sophie Wilson, 19.
"And an estimated 93p of every £1 raised goes to the work overseas.
"The Ayr volunteers are just so disappointed they didn't get a chance to come up with new ideas to keep the shop going.
"And we didn't get the chance to say goodbye to the customers who have supported us.
"We also feel shop manager Chris Moorhouse – the only paid member of staff – did a great job, far beyond what he was paid to do."
Another volunteer, David Stubbs, said: "The shop was not only a bookshop but helped the community focus on provision of food to children around the world.
"It assisted in the despatch of 1,197 backpacks and had contributed half the costs for building a school kitchen in Malawi."
Retired David added: "The shop was also an excellent introduction to retail work for many unemployed volunteers, and several staff received their community service awards through this venture.
"We're sorry for the inconvenience the closure created for the many customers and contributors of books and financial aid to the charity.
"Apologies also to the people who have offered their books and are waiting collection but due to the short notice they will not be collected."
Many of the volunteers believed Sunday opening could have saved the shop, but this is against the charity's policy.
A spokesperson for Mary's Meals said the closure decision was taken 'with great regret'.
She added: "This decision was only taken after months of work to reduce overheads as much as possible and boost takings.
"Despite everyone's best efforts the shop has been running at a loss for some time. As a charity we have a duty to act as good stewards of the donations entrusted to us and therefore we could not continue to present the shop to the public as an effective way of supporting Mary's Meals.
"We are very grateful for all the hard work undertaken by the staff and volunteers and for the support shown by the local community.
The Ayrshire Post 25, Sep 2009
This was a great charity bookshop, lots of books, lots of cheap books, and staffed by volunteers and they still couldn't stay open.