I'm a little late with this and for that I apologise.  The usual Christmas mayhem is to blame plus some health issues and other stuff and as usual I am stretched way too thin.
This month we are reading the following books in the Book Group, complete with lovely and informative Hosts, so come along and join in.
George Orwell – 1984
Novel by George Orwell, written in 1948 and published in 1949 as a warning about the menaces of totalitarianism. The novel is set in an imaginary future world that is dominated by three perpetually warring totalitarian police states. The book's hero, Winston Smith, is a minor party functionary in one of these states. His longing for truth and decency leads him to secretly rebel against the government. Smith has a love affair with a like-minded woman, but they are both arrested by the Thought Police. The ensuing imprisonment, torture, and reeducation of Smith are intended not merely to break him physically or make him submit but to root out his independent mental existence and his spiritual dignity. Orwell's warning of the dangers of totalitarianism made a deep impression on his contemporaries and upon subsequent readers, and the book's title and many of its coinages, such as NEWSPEAK, became bywords for modern political abuses.
In April 1992 a young man from a well-to-do family hitchhiked to Alaska and walked alone into the wilderness north of Mt. McKinley. His name was Christopher Johnson McCandless. He had given $25,000 in savings to charity, abandoned his car and most of his possessions, burned all the cash in his wallet, and invented a new life for himself. Four months later…(don't want to spoil the ending for anyone who isn't familiar with the book!)
Richard and Judy Book – December
This month's New Writer's Club book is Loving Frank by Nancy Horan.
I have been standing on the side of life, watching it float by. I want to swim in the river. I want to feel the current.
So writes Mamah Borthwick Cheney in her diary as she struggles to justify her clandestine love affair with Frank Lloyd Wright. Four years earlier, in 1903, Mamah and her husband, Edwin, had commissioned the renowned architect to design a new home for them. During the construction of the house, a powerful attraction developed between Mamah and Frank, and in time the lovers, each married with children, embarked on a course that would shock Chicago society and forever change their lives.
Reading Challenges
December is also the time to update your 52 books lists before we reach the end of this year, and don't forget we are also looking for your top 10s.  Go to your 52 books thread, browse through the list of titles you've read this year and then come up with your top ten favourite books and your top ten worst books from the list.
You can also start your new 2009 Book challenges thread while you're there.  Next year we will be keeping track of all our reading, including the 52 book challenge and some other smaller challenges throughout the year.
January book groups are still being decided, but don't forget to check what books made it to our Longlist of books for next year!
Christmas Writing Contest
There will of course be a seasonal writing challenge for this month too.  We are still working out a few details but it will be Christmas themed and details posted up in the forum shortly.
Love the books, buy the t-shirts!
Also of news, we have some cool book related designs currently available in both Cafepress and Zazzle shops and if I ever get any spare time, then I will add new designs to the other shops.  The photos are behind the more tag/cut, so please click to check them out.
Zazzle designs with links are featured below. The Cafepress designs are similar, just click on the Cafepress link to see them.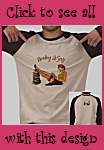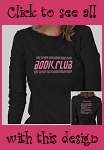 Twilight related designs are also in both shops too. The ranges are similar but not identical and obviously each company has its own product ranges which do differ quite a lot. I ordered a "Reading is Sexy" white thermal travel mug for someone and it arrived yesterday. I have to say I'm really impressed with the quality. It looks really good. I also personalised it with the name of the person I'm giving it too. This is an option Zazzle has that Cafepress doesn't!