Spoiler alert: this recap is for people watching The Handmaid's Tale, series two, on Channel 4 in the UK.
If you're still here, The Handmaid's Tale series blog should really reward your long service, because many have fallen by the wayside during this gruelling series. As Offred pegs out dead Eden's washing, she tells us that the teenager will be turned to animal feed as heretics don't get gravestones. "All we leave behind is the uniform," she adds poignantly.
This episode – aside from hastily tying up loose ends – is all about the low, persistent rumble of angry women on the turn. Wives, Marthas, handmaids: all of them have a reason to revolt against the whisky and cigars brigade currently imprisoning them. Even though the wives do seem to turn quite suddenly, Serena's slow-burn fury has been evident throughout.
Eden and her illegal bible become the McGuffin that set in motion this final act. If a 15-year-old who isn't allowed to read is considered animal feed, then how is any parent to protect their own daughter? June uses the young girl's scribbled attempts to understand the scripture to wound her conscience. "How are you going to keep her safe?" she spits at Serena over her carefully tended orchids.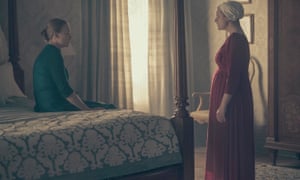 June is later dumbfounded when she discovers Eden's own father turned her in to the authorities. "What are you gonna do when they come for your daughter?" she hisses at Fred before their thrilling, horrifying exchange of blows. This violent outburst mirrors Emily's scene where, driven by fury alone, she launches at Aunt Lydia with that blade, savaging the old woman who dares to make a glib remark about the removal of Emily's clitoris.
I've also really enjoyed the progression of Rita's character this series. "Your girlfriend is badass," she tells Nick after the epic Fred-slapping incident. Ultimately, it is she and her friends who unite to save June from her misery. She also allows June and Nick a moment with their daughter. "Holly, this is your daddy," says June, tenderly, as she tells Nick she loves him. Between Rita's newfound loose tongue and a genuine moment of sweetness, this episode was positively sunny compared to previous outings.
The scene between the wives, where Serena and Angela's mother tentatively hatch their plot to alter the law, almost out of nowhere, my credulity was stretched. I can understand Serena's ongoing dissatisfaction, but she's never mentioned anything like this to the other wives and is taking the most enormous risk.
Fred beat her in front of Offred the last time she had an independent thought. She must've known how this crazy rebellion would ultimately go. Sure enough, the poor woman (mustn't forget she's a rapist) ends up one finger down on the deal for reading openly from the Bible.
After the wives (briefly and ineffectually) revolt, Emily prepares for her first ceremony with Joseph. But it's Josh from The West Wing: there's no way he was going to sexually assault his intellectual equal, or anyone else for that matter. Bradley Whitford playing someone without a strong moral core still feels wrong, even after he was the evil patriarch in Get Out.
At Lydia's checkup the next day, she gets more than she bargained for as the pinless grenades of Gilead's women all seem to start detonating at once. Houses burn, Martha's form the resistance and Lydia takes Emily's righteous knife in her back. "I tried," says Serena to June, holding up the raw stump where her little finger used to be. "God send me an obedient woman," mutters Fred later in the kitchen. Can they not see? The women riseth.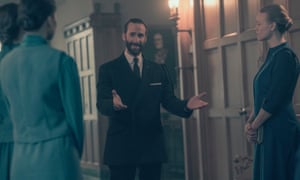 Suddenly, a house across the street is on fire (probably caused by an exploding woman) and chaos reigns. As guardians swarm the area and Joseph drives off with a terrified Emily, Rita comes to June and tells her she and the baby can go, but it must be now.
The struggle between Nicole/Holly's two mothers is infused with mutual empathy. Serena knows Gilead isn't safe and that she and June want the same thing. When she finally lets go, June gives Serena a heartfelt, "Blessings on you" and she means it. The splendid network of Marthas swings into action, passing June and Holly like a carefully held baton until she reaches the tunnel mouth, where she awaits rescue.
That moment, crouched in the corn, where she flashes back to Hannah, tells us everything about how this will end. She's not going to leave her behind. But what hope does she have? Unless the revolution really has begun and the Marthas have been stockpiling ammo. As Emily and Nicole (nice touch) drive away in the truck, June stands, hooded, vengeful, and looks at us for a moment in a way that says, "This ends. Tonight."
Just the 13 episodes of series three to go before she stamps on Gilead's nuts forever. See you next year, bitches.
The sound of music
A giddy flick through someone's record collection this week. Itchycoo Park by the Small Faces, Walking on Broken Glass by Annie Lennox and I'll Be Your Mirror by the Velvet Underground & Nico all feature as the real world leaks through the ever-widening cracks in Gilead. Burning Down the House by Talking Heads plays us out, hinting that radical change is coming.
Blessed be that fruit. May the Lord open.
Under his eye
Rita and June exchange guilt over Eden's death. "I treated her like shit," says Rita. "I slept with her husband," retorts June. She wins.
"Forget your lunch today, Waterford?" sneers one of the commanders when Serena comes to address their meeting. He's first against the wall next series.
"Nolite te bastardes carborundorum" scratched into the paintwork of Offred's bedroom is a smashing "fuck you" to Fred. I gave it a little clap.
Bradley Whitford was horribly underused. Bring him in mid-series, not two eps before the end, and let his character bed in before we realise he's off-message. Never enough Whitford in my life.