From wild tales of exploration to the pioneers of the old west, from post-apocalyptic wastelands to the far reaches of space, the idea of the frontier has enthralled authors and readers for more than a century. The word alone evokes a boundary, a crossing, a limit of known experience beyond which discovery and danger lurk. In the emptiness of the frontier, we find characters reduced to their most basic selves, the comforts and trappings of the modern world stripped away to leave them with startlingly elemental choices: death or survival; morality or corruption; love or hate. We also find them pitted, more often than not, against their environment. Whether hostile or benign, the landscape becomes a character in itself.
In my case, the frontier was the Australian outback. Only Killers and Thieves is set in a dark period of colonial history, on the late 19th-century Queensland frontier, where two young brothers are drawn into a quest for retribution that will define both their relationship and their lives. In writing the book, I travelled with them through a beautiful yet brutal terrain. Perhaps that is also part of the frontier novel's appeal: in our ultra-connected world there is nowhere that can't be visited, either in person or online – but these stories can still transport us to distant times and places and make them urgently real.
So here are 10 great frontier novels, roughly in order of when they're set:
1. Blood Meridian by Cormac McCarthy
McCarthy is one of the great chroniclers of the American frontier and its inhabitants. I could have just as easily chosen The Road, or the Border Trilogy, but for me Blood Meridian is his masterpiece, a tale of murder, pillage and (bare) survival in the lawless US/Mexican borderlands, written in McCarthy's poetic, near-biblical signature style. Often hailed as one of the great American novels, it is a staggering work.
2. The Son by Philipp Meyer
Meyer's multi-generational novel about a Texan oil family is rooted in the legend of the patriarch, Eli McCullough: from his childhood on the Texan frontier, to his capture and raising by Comanches, reluctant return to white society, and the empire he founded on the plains. A stunning, meticulously researched book that is epic in scale, ambition, and historical sweep.
3. True History of the Kelly Gang by Peter Carey
From the scant pages of notorious Australian outlaw's Jerilderie Letter, Peter Carey crafted the voice of Ned Kelly and wrote his life story in the bushranger's wry and poetic vernacular; a voice so convincing we cannot fail to believe it is indeed all true. Which is the point, of course: Kelly is such a compelling storyteller that he could say just about anything and we would fall for it, reading on breathlessly and no doubt laughing along.
4. News of the World by Paulette Jiles
This elegant and deceptively simple tale of an ageing former army captain attempting to return a 10-year-old girl to her family, is a moving and insightful road novel set on the Texas frontier. Jefferson Kidd leads a content, if lonely life, reading newspaper stories aloud in far-flung towns, when the girl, Johanna, reluctantly "rescued" from a Kiowa tribe, is placed in his care. What follows is a convincing and moving story about their growing bond, and a subtle investigation of US politics at that time.
5. Wake in Fright by Kenneth Cook
A chilling outback horror and an Australian classic, first published in 1961 and still in print. Placid teacher John Grant finishes the term at his isolated bush primary school and heads to Sydney for the holidays but, on a stopover in the mining town of Tiboonda, loses his money on a game of two-up and finds himself sucked into an inescapable nightmare by the all-too-friendly locals. Never has the offer of a drink been so dangerous.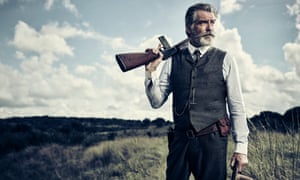 6. Into the Wild by John Krakauer
Not a novel, but I'm including it anyway, because the true story of Christopher McCandless has haunted me since I first heard it. This is perhaps because he lived out a fantasy many of us have shared: after graduating college, he gave away everything, burned his credit cards and cash and set out into the Alaskan wilderness to live a simple life on the land. The tragedy that unfolds is one of youthful folly, hubris, bad luck, inspiration and courage.
7. Legend of a Suicide by David Vann
Vann's work returns again and again to the American frontier, in this case Alaska, where, in a series of short stories and a novella, a son bears witness to a father falling apart. It's the central novella, Sukkwan Island, that dominates: the pair set up home in a wilderness hut for what is supposed to be a period of bonding and clean living, but becomes something much more shocking and dark. A poignant collection, all the more so for the true story behind it.
8. The Shepherd's Hut by Tim Winton
Winton is known for writing about landscape and place, but also about adolescence, characters on their own personal frontiers. The figurative and the literal combine in his latest novel, out this month, as young Jaxie Clackton runs away from home and walks through the Western Australian desert and salt flats, in search of hope, survival and love. The voice is arresting and vivid, and the story superbly told.
9. The Natural Way of Things by Charlotte Wood
Ten women are drugged and imprisoned in an outback compound, having each been involved in a sexual scandal with a powerful man. Presided over by brutal guards and forced into hard labour under an unrelenting sun, the tables are turned when the power goes out and the women are forced to fend for themselves. A blistering, furious novel about gender, power and sexuality that is also an engrossing battle to survive.
10. The Book of Strange New Things by Michel Faber
Frontiers aren't just earthbound: science fiction and post-apocalyptic fiction are brimming with stories about survival in, or the discovery of, new worlds. Here, Faber's genre-bending novel tells an affecting love story about a missionary sent to teach Christianity to the alien inhabitants of a barren colonised planet, while his wife lives through an accumulation of natural disasters on a struggling Earth. Multilayered and moving, in a brilliantly realised world.