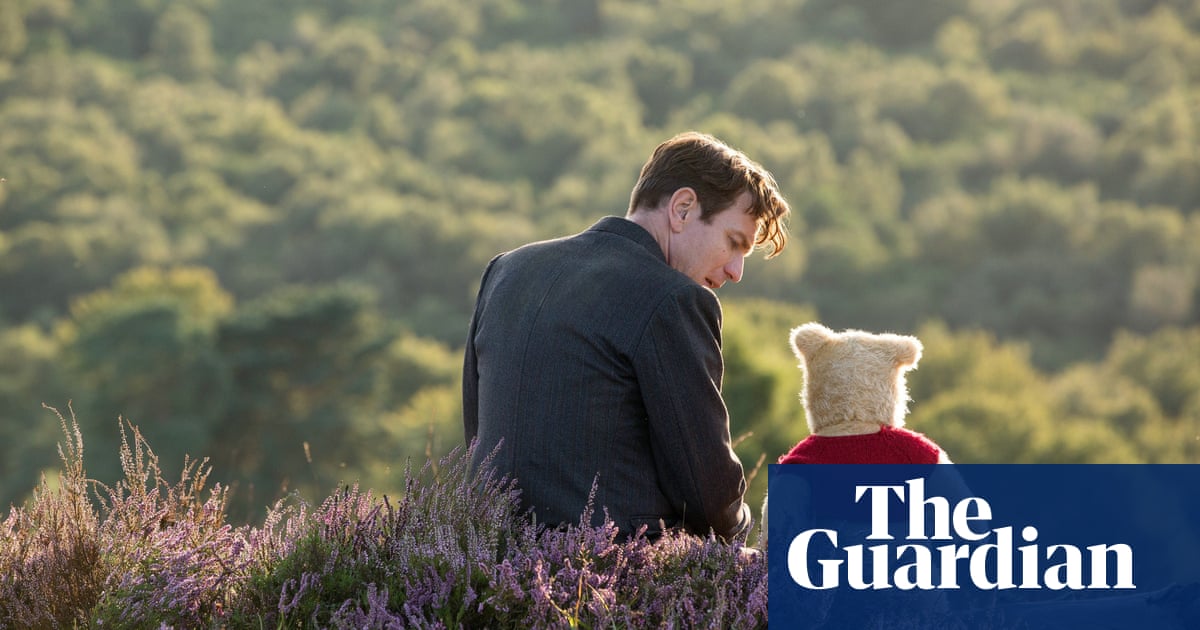 The winner: Christopher Robin
Stasis has hit the UK box office with most of the top titles remaining the same, albeit in a slightly different order, and with Christopher Robin sticking at the top spot for a third week in a row. The Disney film's weekend gross – £1.17m – is one of the lowest amounts for a chart-topping title this year. Gross after 17 days is a handy £10.6m.
Christopher Robin is one of five films so far this year to achieve at least three weeks at the top spot, the others being Black Panther, Peter Rabbit, Avengers: Infinity War and Jurassic World: Fallen Kingdom. Some of the year's biggest-grossing titles, notably Mamma Mia! Here We Go Again, Incredibles 2 and The Greatest Showman, spent only one week at No 1. Disney was also celebrating Ant-Man and the Wasp (£16.7m so far) overtaking the original Ant-Man's £16.3m.
Box office was affected by sunny weather across much of the UK and Ireland at the weekend.
The chart climber: BlacKkKlansman
Moving up from sixth to third place in the chart, and declining by just 18% in box office terms, BlacKkKlansman was one of a notable winner. Its success was partly due to a significant expansion at UK cinemas, up from 217 venues to 384. Site average diluted to £2,403, although that's still pretty healthy, and is the highest of any film in the Top 10. Total after 10 days is £3.1m.
BlacKkKlansman is now the second-highest-grossing film for Spike Lee at UK cinemas, behind only Inside Man (far out in front with £8.29m). Many of the director's most famous films, including Do the Right Thing, Jungle Fever, Mo' Better Blues and 25th Hour, failed to crack £1m at the UK box office. Malcolm X did better, with £1.40m.
The new arrivals: Searching, The Happytime Murders and Yardie
Top new entrant this week is Searching, the missing-person thriller that plays out entirely via screens and mediated footage. Debut box office was £662,000 from 401 cinemas, and £765,000 including previews. These numbers are in line with the performance in the US, where the film achieved $6.07m for its first weekend of wide play. Searching premiered at the Sundance film festival in January, winning the audience award NEXT and the Alfred P Sloan prize.
Two places behind Searching in the official chart is The Happytime Murders, starring Melissa McCarthy, with a debut gross of £694,000 from 500 cinemas. However, the film released last Monday, so this is essentially a seven-day figure. Weekend takings are just £342,000 – which would have earned it a lowly 13th place in the chart.
Idris Elba's directing debut Yardie landed outside the Top 10 with £364,000 from 225 cinemas, and £438,000 including previews. Not including previews, site average is an OK £1,620.
The arthouse hit: Cold War
Foreign language arthouse hits have been thin on the ground this year, with only The Square cracking £500,000. Now it's certain to be joined by Paweł Pawlikowski's acclaimed Cold War. The Polish-language 1950s-set black-and-white romantic drama has debuted with an impressive £180,000 from 61 cinemas, and £229,000 including previews. For comparison, The Square began in March with £155,000 from 56 sites, and £221,000 including previews. Total so far for The Square is £723,000.
Obvious comparison point for Cold War is Pawlikowski's Ida – also in black and white and in Polish, albeit set a decade later – which began in September 2014 with £52,600 from 16 cinemas, including £5,600 in previews. UK total for Ida, which went on to win the foreign language Oscar in 2015, is £514,000. Pawlikowski has also made English-language, UK-set films, notably My Summer of Love, which gave Emily Blunt her breakthrough role and grossed £498,000 in 2004.
The market
Thanks to the lack of commercially potent new entries, the market is 35% down on the previous session. However, box office is 33% up on the equivalent weekend from 2017. Early September is traditionally a weak time for cinema-going, and the first weekend of the month a year ago saw no film managing takings above £1m. Cinema bookers now have hopes pinned on supernatural horror The Nun, which shares a universe with the Conjuring and Annabelle franchises, and arrives on Thursday. The next day, three significant indies vie for our attention: Bart Layton's true heist tale American Animals, Chloë Grace Moretz in The Miseducation of Cameron Post and Kelly Macdonald in Puzzle. All three premiered at Sundance in January.
Top 10 films, 31 August – 2 September
1. Christopher Robin, £1,173,235 from 646 sites. Total: £10,613,641 (three weeks)
2. Mamma Mia! Here We Go Again, £979,039 from 621 sites. Total: £61,635,830 (seven weeks)
3. BlacKkKlansman, £922,806 from 384 sites. Total: £3,105,043 (two weeks)
4. The Meg, £881,145 from 513 sites. Total: £13,967,082 (four weeks)
5. Searching, £765,050 from 401 sites (new)
6. Incredibles 2, £762,307 from 558 sites. Total: £53,279,019 (eight weeks)
7. The Happytime Murders, £694,044 from 500 sites (new)
8. The Equalizer 2, £625,218 from 443 sites. Total: £6,090,669 (three weeks)
9. Hotel Transylvania 3: A Monster Vacation, £555,404 from 551 sites. Total: £17,532,336 (six weeks)
10. Mission: Impossible – Fallout, £521,610 from 362 sites. Total: £23,055,717 (six weeks)
Other openers
Yardie, £438,088 (including £73,667 previews) from 225 sites
Cold War £228,780 (including £48,684 previews) from 61 sites
Upgrade, £58,006 from 141 sites
Mar Gaye Oye Loko, £42,008 from 23 sites
Yamla Pagla Deewana Phir Se, £35,402 from 38 sites
Action Point, £33,993 from 115 sites
Stree, £20,488 from 11 sites
The Ballymurphy Precedent, £16,831 from four sites
I, Dolours, £15,989 from 17 sites (Ireland and Northern Ireland only)
A Stork's Journey, £15,330 from 87 sites
The Man from Mo'Wax, £13,106 from 10 sites
C'est La Vie, £11,940 from 10 sites
Distant Voices, Still Lives (reissue), £6,711 from six sites
Natsamrat, £488 from four sites
• Thanks to comScore. All figures relate to takings in UK and Ireland cinemas.